To support and contribute with the aim of MIA of broadening business horizons for all professionals who need to know more about this new world our CEO Elisabetta, hosted a unique and fully booked, forward-looking, and hands-on Masterclass on 'Emerging Technologies in Entertainment and Media: State Of The Art and Future of Audiovisual Productions".
This year's edition of MIA International Market featured an enriched dedicated program devoted to Innovation for Creative Industries. All from Artificial Intelligence to video games and media; digital content creations for augmented and mixed reality; analysis and development of new technological media based on digital technologies; copyright and artificial intelligence for audiovisual content creation; VFX; and Virtual Production.
Our Masterclass brought a glimpse of the future to all professionals and participants.💥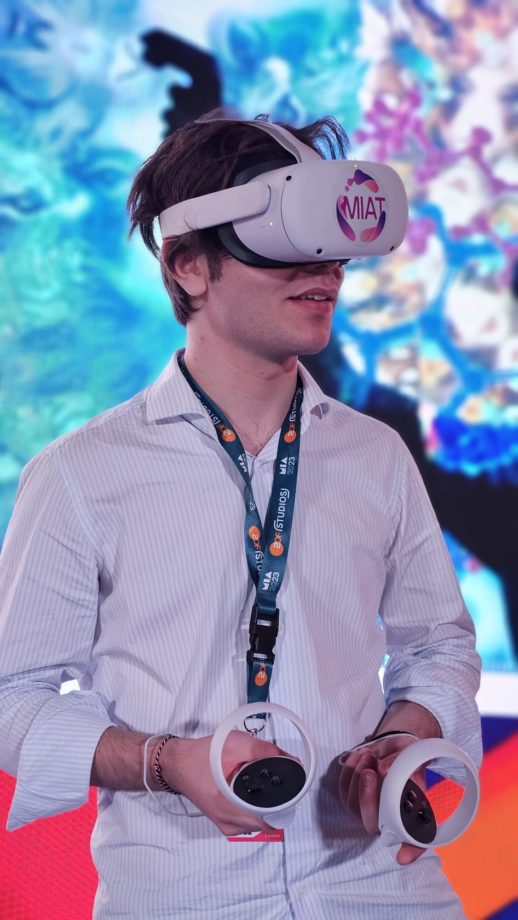 During our Masterclass, students engaged in an in-depth analysis of XR, Metaverse, Web3, NFTs, AI, and virtual production technologies, experienced curated international pieces from the entertainment and audiovisual sector in Virtual Reality.
They had the chance to explore new genres and formats shaping the future of production, swiftly apply immersive ideas for innovation, identify emerging talents crucial for creating immersive content, and gain insights into the international distribution system.

The call for more talent in the #Immersive Sector and #Emergingtechnologies is louder than ever. Audiences demand new #immersiveexperiences that can catalyze all their senses and create new engagement with narratives. It's a collective journey where #creators#producers, #distributors, #authors, #filmmakers, #writers, and all professionals have to make.
🌍 Expanding Horizons and Business Opportunities
To increase the international competitiveness of the immersive industry and create new business opportunities on a global basis, we need to upskill all professionals in creating and thinking immersive, in producing and distributing to meet the emerging technology needs of global audiences.
It all evolved into a platform for networking, inspiration, and sustainable impact! 💫This is what we need to make this immersive market grow and realise its full potential, creating new markets, talents, and experiences that will impact the future.
Our deepest thanks to MIA | Mercato Internazionale Audiovisivo for dedicating an entire Tech space to the topic of Innovation of Creative Immersive Industries, and, to all international producers, production companies, broadcasters and commissioners, creative directors, and immersive creators who decided to join our forward-looking Masterclass and for taking their first step into the future of the Audiovisual Industry!
Let's continue to shape the future together, igniting our collective passion for innovation! ✨
Always remember, content drives not technologies!